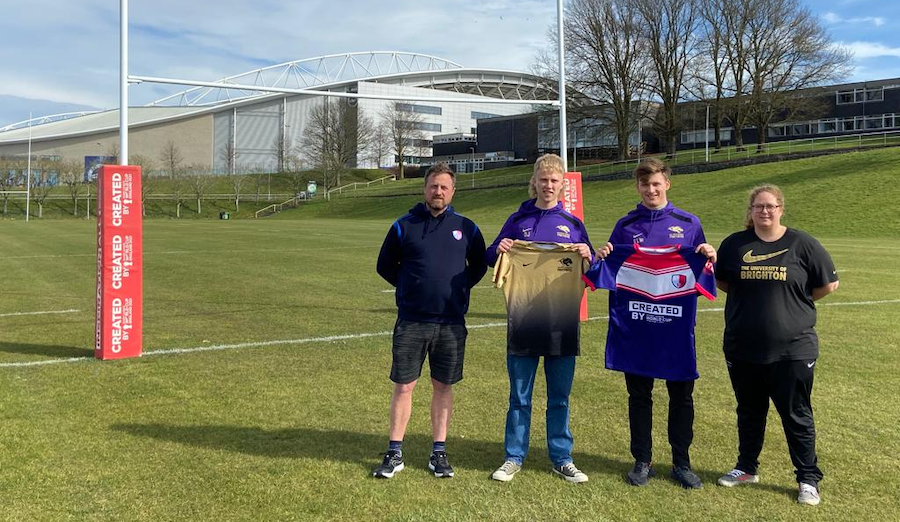 Sport Brighton are excited help grow Rugby League on the south coast with a new partnership between the University of Brighton andBrighton and Hove Rugby League
The partnership means Brighton and Hove Rugby League will use the University of Brighton as its base for both training and home fixtures alongside working together for a series of student and local community engagement projects.
Brighton and Hove Rugby League will support the coaching of the Brighton Panthers Mens Team as well as run a JustLearn Womens Programme. Alongside this competitive offer, both parties will co-runX-League- Rugby League's limited contact game open to students, staff and the local community. A full schedule of activities and how to get involved will be released at the end of March 2023.
The partnership will also benefit local primary and secondary schools, with Brighton and Hove Rugby League hosting school festivals at the universities Falmer Campus engaging over 250 students in the sport. University of Brighton Students will also gain the opportunity to experience coaching and refereeing.
Phil Ward, Chairman of Brighton and Hove Rugby League, said: "We're really excited for this partnership with the University of Brighton. Over the past year we have already been working on an informal basis with the Mens BUCS team and we've seen great transition into our club.
This a great chance to formalise this relationship, secure a home venue for the club as well at develop the university team and our community engagement offer. We hope this will give more people the opportunity to get involved in Rugby League and start to create a pathway in the city and wider county, not only for players, but coaches, match officials and volunteers too."
Barry Squires, Head of Sport at University of Brighton, said: "We are really pleased to be working closely with Brighton & Hove Rugby League Club in jointly enhancing the provision and access to rugby league for our students and within the local region. Of particular focus is our commitment to develop a women's student rugby league programme that will also support the creation of a new joint local women's adult team.Once up and running our student will be upskilled with support from the club to deliver outreach and rugby league engagement sessions within schools to grow the games profile.
Our sport development team have worked hard to get this new partnership across the line and today's announcement of the SLA being signed is great news for all involved".
For further information about our sport offer, please visit: Student clubs: Panthers (brighton.ac.uk)