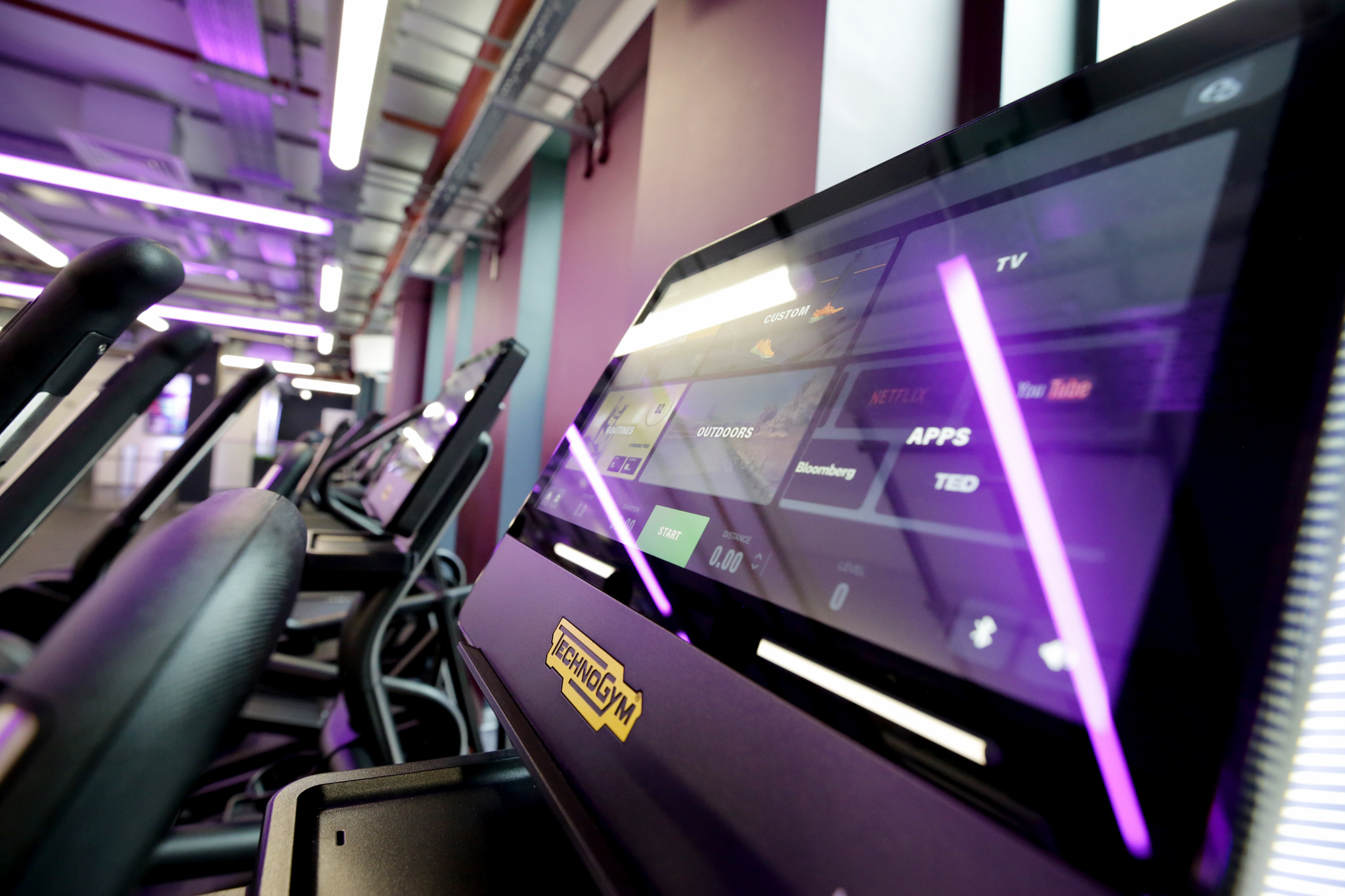 Sport Brighton are excited to announce further details of it's newest facility located on Lewes Road in Moulsecoomb, Brighton. The facility will features a new gym floorspace, studio and changing facilities. The gym is now open. Find out more information below.
OPENING DATE
We opened at Midday on Monday 12th September. To ensure we can provide the best possible service we are lanching the facility in two phases. Phase 1 will ensure students and staff can be onboarded at the start of the new academic year. Phase 2 will see a wider community membership offer becoming available.
Phase 1: Monday 12th September; Midday opening | UoB Staff & Students
It is anticipated that we will open to University of Brighton students and staff members from Monday 12th September. Non-members including those from the wider local community will be able to book classes with us.
Bookings for external non-members can be made 48 hours in advance of the class and is subject to availability. During this period we will assess the popularity of classes and will update the programme where needed. Start of term classes are always busier as students form their routines.
Phase 2: 1st November 2022 | Associate Members
Access to purchase memberships will be opened up to the Associate Member category. This includes:
University of Brighton student or staff partners/ University of Brighton graduate or graduate partner/ Student in HE or FE/ NHS/ Emergency Services & corporate partners. You can purchase this from our App or website. Validation that you fulfil the Associate criteria will be required when you activate your membership on site. Those community members that joined our initial email mailing list will also be invited to take out membership.
Phase 3: 21st November 2022 | Community Members
Community membership which is open to all will become available via a waiting list. We will review the release of new community memberships on a monthly basis. To sign up to the waiting list please complete the form here. We are opening memberships in this way to enable us to control membership numbers to ensure the gym is not oversubscribed and therefore the customer experience isn't compromised. We anticipate a good number of community memberships being available from the 21st November. We will contact those on the waiting list when there is availability and will invite those selected to take out membership. If membership is not taken out within 2 weeks of receiving the 'invitation to join' email then you will need to complete another form to join the waiting list again to gain membership access in the future. To be considered in the first release of community memberships please join the waiting list before the 16th November. You will then be contacted between the 17th and 20th November with details of how to join.
MEMBERSHIPS
Membership will include access to this facility and our facilities in Falmer and Eastbourne. The standard Sport Brighton price structure and membership will apply to this new site. Details of memberships can be found here. As noted above only Student, Staff and Associate membership categories will be available to purchase in phase 1 although community users can take part in our class programme where there is availability from initial opening. Details of all our prices can be found here. The best way to book, buy membership and view our timetables is via our app.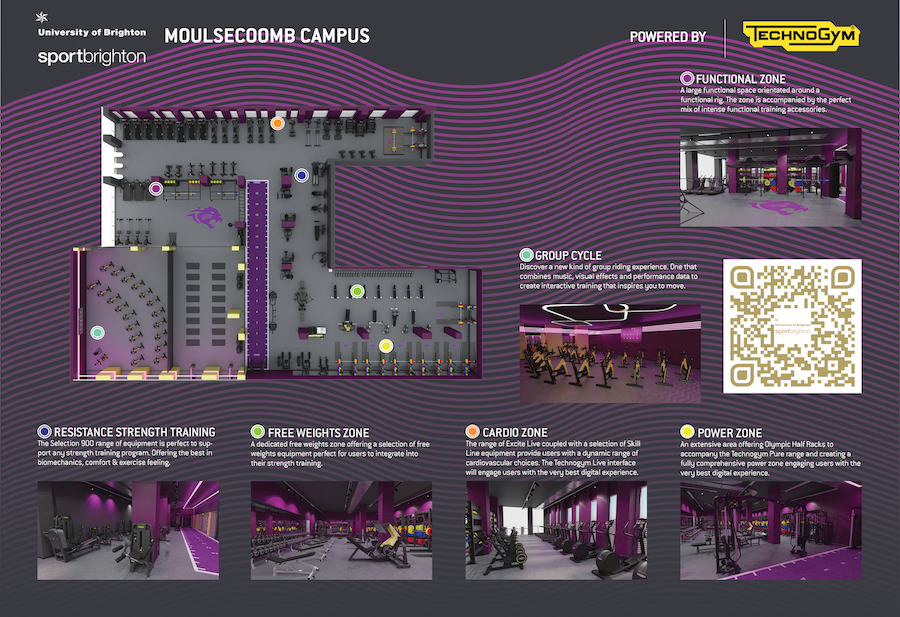 WHAT TO EXPECT | THE SPACE
The new Sport Brighton Moulsecoomb Gym & Fitness facility is part of the University of Brighton Big Build development. It is located at street level at the bottom of the new halls of residence towers on Lewes Road in front of Mithras House. The facility will include a reception and office area leading to changing and shower area. This includes individual showering facilities. Accessible changing and shower facilities are also included. The new studio space will offer a versatile` area for classes and activities such as dance. The studio can also be opened up to lead into the gym area. The single level gym area will be packed with the latest range of leading gym equipment.
WHAT TO EXPECT | THE KIT
CARDIO & RESISTANCE
Fully equipped cardio and resistance suite with latest Technogym Excite range including:
7 bikes
8 treadmills
6 cross trainers
3 climbers
Skierg
3 Skillmill curved freerunning treadmill
6 rowers
2 spin bikes with on-demand spin classes
2 ab/aductors
3 cable stations
Lowerback extension
Assisted chin/dip
Leg curl
Leg extension
Prone leg curl
Chest press
Lat row
Shoulder press
Low row
Smith machine
Leg press
InBody body composition analyser
STRENGTH & CONDITIONING AREA
Strength and conditioning area in full Hammer Strength range of Olympic Flat Benches, 7 half racks, Arm Curl, Athletic Multi-Adjustable Bench, Power Pivots, dumbells in 2.5kg increments 5kg to 47.5kg AND 2kg increments of 2kg-40kg, competition kettlebells 12kg-32kg, Training bars and Olympic bars alongside UESAKA Certified IWF Competition bumper plates and technique plates.
Our ESP TOTALfreedom functional rig and track area includes Boxing bags, Battle-ropes, TRX suspension trainers, Wheeled sled Resistant band vertical pegs, Slamballs, Stability balls, Powerbags, monkey bars, squat stations, Foam plyoboxes, barbells, dumbells and more kettle bells.
SPIN BIKES LOCATED IN OUR NEW STUDIO SPACE
The new studio will be home to 20 Technogym GROUP CYCLE CONNECT spin bikes that features high power accuracy, on-the-fly adjustments and a new kind of group riding experience; One that combines music, visual effects, and performance data to create an interactive training that inspires you to move. Get an idea of the functionality here:
WHAT TO EXPECT | SERVICES
The new facility will have qualified and experienced staff on hand to help guide you to get the most from our facilities. Sport Brighton can provide a variety of services to suit your needs and budget. Choose from either our verified Personal Trainers who can provide one on one programmes and in gym sessions or we can offer a bespoke detailed training plan based on your needs and goals. Our new gym will feature an InBody machine, this is a self service machine that can provide comprehensive body composition anaysis to enable you to measure your progress.
LOCATION
The new gym is located on Lewes Road (BN2 4AT) and is on street level of the new accomodation towers in front of Mithras House. See the barbell icon on the map below.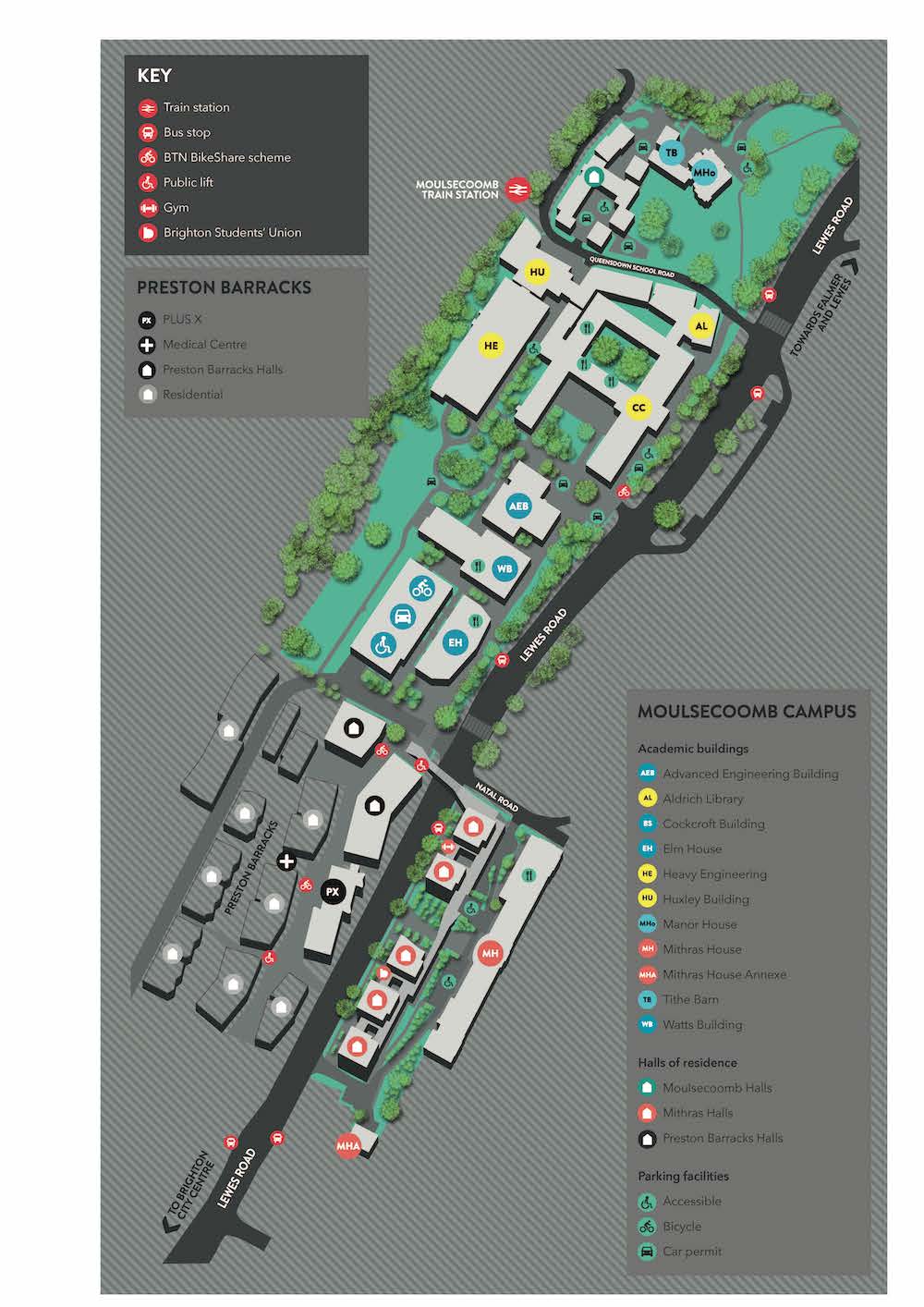 OPENING TIMES
MONDAY - THURSDAY
06.30 - 23.00
FRIDAY
06.30 - 21.00
WEEKENDS
08.00-18.00
CLOSED BANK HOLIDAYS AND DURING THE UNIVERSITY CHRISTMAS CLOSEDOWN.