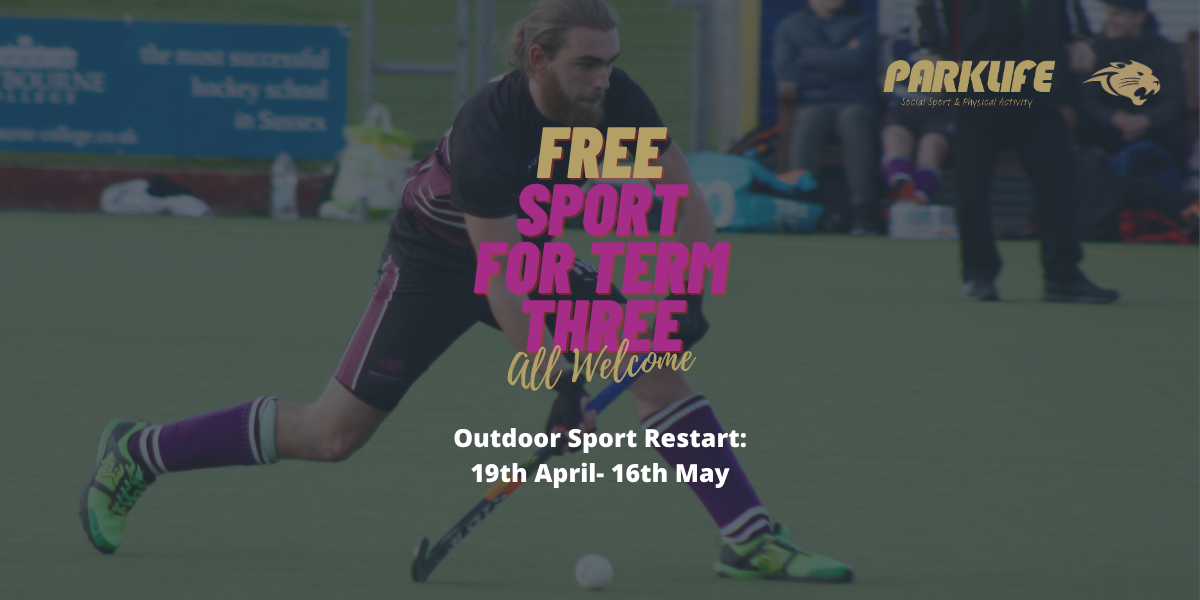 Students can look forward to a return to sport for term three through our Parklife x Panthers open sessions. A great way to connect with student clubs so you are ready to hit the ground running next academic year. Initially all sports offered will be run outdoors due to government guidelines. More sports will hopefully become available once restrictions ease for indoor activity (currently scheduled for 17th May). We have made all activities free for this term so why not give it a go?
More details about the sessions are below. Sessions do have limited capacities to comply with COVID guidelines. We don't anticipate these being reached however where this might be a factor priority will be given to those that have pre-booked using the links below, it will then be first down to arrival time. Please take your student ID with you to sessions. Ensure you follow COVID guidelines, these will be outlined before your session. When not in active play be sure to keep your distance from others. Use the hand sanitising stations and be mindful of others when entering and exiting playing areas.
If you park in University of Brighton car park and you don't have a permit please ensure you input your car details in the screens available in the Pavilion/ Sports Centre receptions. This facility is only available when using our sports facilities.
SPORT
DAY / TIME
VENUE
GET INVOLVED
American Football
TBC
TBC
Connect:
American Football
Sundays 1-5pm

UoB Falmer Synthetic Pitch

Boxing Brighton
Thursdays 4-6pm
UoB Falmer Hardcourts

Just Turn Up | Connect:

Social Football Men's

Wednesdays 1-3pm*

UoB Eastbourne Synthetic Pitch

Just Turn Up

Club Football Men's
Fridays 6-8pm

UoB Eastbourne Synthetic Pitch

Just Turn Up | Connect:

Football Women's
Tuesdays 6.30-8pm

UoB Eastbourne Synthetic Pitch

Just Turn Up | Connect:

Social Football Men's
Thursdays 4-6pm

UoB Falmer Synthetic Pitch

Just Turn Up

Club Football Men's
Mondays 8-10pm

UoB Falmer Synthetic Pitch

Just Turn Up | Connect:

Football Women's
Fridays 5-6.30pm

UoB Falmer Synthetic Pitch

Just Turn Up | Connect:

Hockey Men's
Mondays 6-7.30pm
Lewes HC (Southdown Club)

Connect:

Hockey Women's Brighton
Mondays 6-7.30pm
Lewes HC (Southdown Club)

Connect:

Hockey Women's Eastbourne
Mondays 6-7.30pm
Saffrons, Eastbourne
Korfball
Thursdays 7.30-9.30pm

UoB Falmer Hardcourts

Just Turn Up | Connect:

Lacrosse Men's
Tuesdays 5-6.30pm
UoB Eastbourne Synthetic Pitch

Just Turn Up | Connect:

Lacrosse Women's
Tuesdays 5-6.30pm
UoB Eastbourne Synthetic Pitch

Just Turn Up | Connect:

Netball Brighton
Mondays 6-8pm
UoB Falmer Hardcourts
Netball Eastbourne
Tuesdays 6-7.30pm
Hampden Park Sports Centre
Rugby league
Mondays 6.30-8pm
UoB Falmer Synthetic Pitch
Rugby Union Men's
Mondays 6.30-8pm

UoB Falmer Synthetic Pitch

Rugby Union Women's
Fridays 6.30-8pm

UoB Falmer Synthetic Pitch

Just Turn Up | Connect:

Rugby Union Men's
Fridays 3-5pm

UoB Eastbourne Synthetic Pitch

Rugby Union Women's
Mondays 6.30-8pm

UoB Eastbourne Synthetic Pitch

Just Turn Up | Connect:

Tennis
Fridays 6-8pm
UoB Falmer Hardcourts

Just Turn Up | Connect:

Ultimate Frisbee
Fridays 5-8pm
UoB Falmer Synthetic Pitch

Sessions run between the 17th April - 16th May inclusive. Sessions do not take place on bank holidays. A new timetable will be published for the 17th May until the end of term. All sessions will follow COVID guidelines for each sport. Please follow general covid guidelines before and after sessions. This currently includes the rule of 6, social distancing and travel restrictions.

*There is no social football session on the 5th May