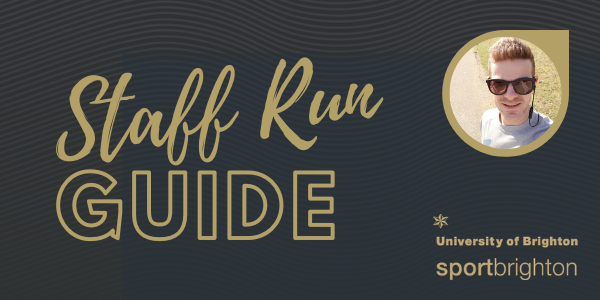 By Ben Letschka, Sport Brigthon Duty Officier
If you are looking to take a run at lunchtime or at the end of your day on campus here are some tried and tested routes. If you have a favourite route of the local area then why not send in your suggestions and we can add it to this guide.
In this article I will tell you about some running routes to and from our Falmer & Eastbourne campuses as well as some things to think about when planning these sessions.
It has always been a controversial topic in the fitness world, whether you train strength before or after cardio, if you are doing both in the same session. It is generally considered that doing weights first can avoid the risk of injury due to fatigue on a rep, when handling a heavy weight. My view is, if you are training both in the same session, you're not likely to go for personal best weight on every set and actually go for a full strength workout. The likelihood is, if you're interested in running as well, you're not wanting to build as much size and strength as you can, as this will have a detrimental effect on your running. Therefore the order should be down to personal preference.
Running to/from campus – Falmer
Mixing running with gym work is a great way to target all round fitness and improve your cardiovascular system as well as improve strength in targeted muscles. Having said that, I will always recommend running outside as opposed to running on a treadmill, so why not utilise our gym as well as running out in the fresh air.
Running to and from our stunning Falmer campus can be challenging, as you won't find a paved flat road anywhere, but this can be a good thing. Mixing in hilly, off-road routes to your running schedule is not only amazing for your overall running ability, but it can also take the pressure off your average running pace. If you're one to obsessively keep an eye on your average pace and have a goal in mind, then that's great, but not for every run you complete, as this can be demoralising if you don't hit your target because you're just feeling tired one day. It can also lead to injury.
The route below is a great one, because it is what I call an 'Out n Back' meaning if you don't know an area very well, you can still feel confident that you won't get yourself lost and have to complete a marathon by the time you get back to where you started.
This one is 4 miles in length from the sports centre front door. You have a tough climb out of campus, which means you must warm up before you start. It follows the main road out towards the Amex stadium, then straight over the junction and past the farm shop. Keep looking right and you'll see a gravel path. This path will take you all the way to Woodingdean. You'll need to think about your shoes, if it has been dry, you can get away with road shoes, however in the wet, I recommend some trail shoes. You'll need to be aware of your pacing as well, because this route is mostly uphill until the 2 mile turnaround point, then a nice downhill back to the start. It is great for progressive splits which also boost your morale for running. If you track your runs on your smart watch, just turnaround when you hit 2 miles, otherwise turnaround before you have to cross any road in Woodingdean. Both directions give you fantastic views which can keep your mind off how your legs are feeling.
4 miles (6.4 km)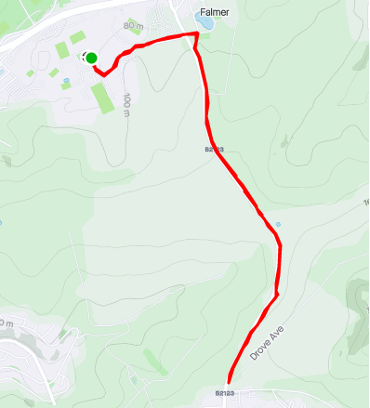 Elevation map

It is good to note that it is 0.5 miles back to the finish from the junction by the farm shop, so if you fancy a slightly longer one, you can run laps of Falmer pond, which will have you on the road, but traffic is sparse. Why not add some faster pacing around the pond to work in some fartlek/interval training.
5 miles (8 km) including 3 laps of Falmer Pond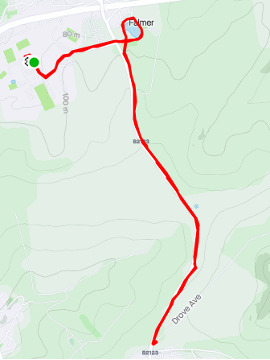 Running to and from campus - Eastbourne
Running from our Eastbourne campus is absolutely perfect for variety. You will be able to get straight up to the South Downs for some tough off-road mileage (after a heart burn of a climb) but you can also enjoy a paved, mostly flat scenic seafront run as well.
I'll focus on a short one, with minimal gradient. Starting from Gaudick Road (but you can easily start from the Sports centre entrance, you head downhill to Carlisle Road, then follow this straight all the way to Wilmington Gardens (just before the back of the Grand Hotel) then join the seafront and head back towards the Downs. From here, there is a 1 mile loop, see below for a zoomed in picture of this loop. It gradually goes up, then downhill, so a great one for loop repeats.
You essentially need 1 and a half loops, so you can do this by sticking to the footpath by the road, then turn left as you get to Holywell, and back track until the point it forks when you stuck to the road footpath. Follow the same way back to the turning you did before, but this time turn right up Chesterfield Road and make your way back to your start point. You should be able to keep a steady pace on this route, there are no extreme gradient, but it does finish with a slight uphill, so pace yourself for this.
3.1 miles (5km)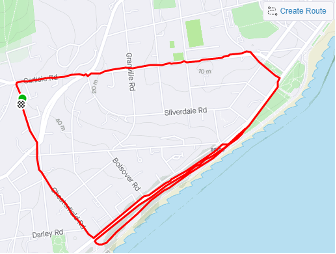 Elevation Map

Zoomed in on the 1mi Loop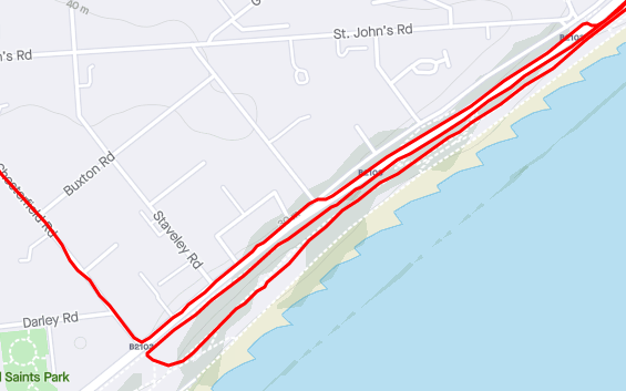 Overall, there are many ways you can enjoy your gym, not all have to be actually in the gym. Utilising your membership by using the centre as a base, going out in the beautiful scenery, then showering afterwards is brilliant for mixing up your routine and feeling fresh for a day of work/study.