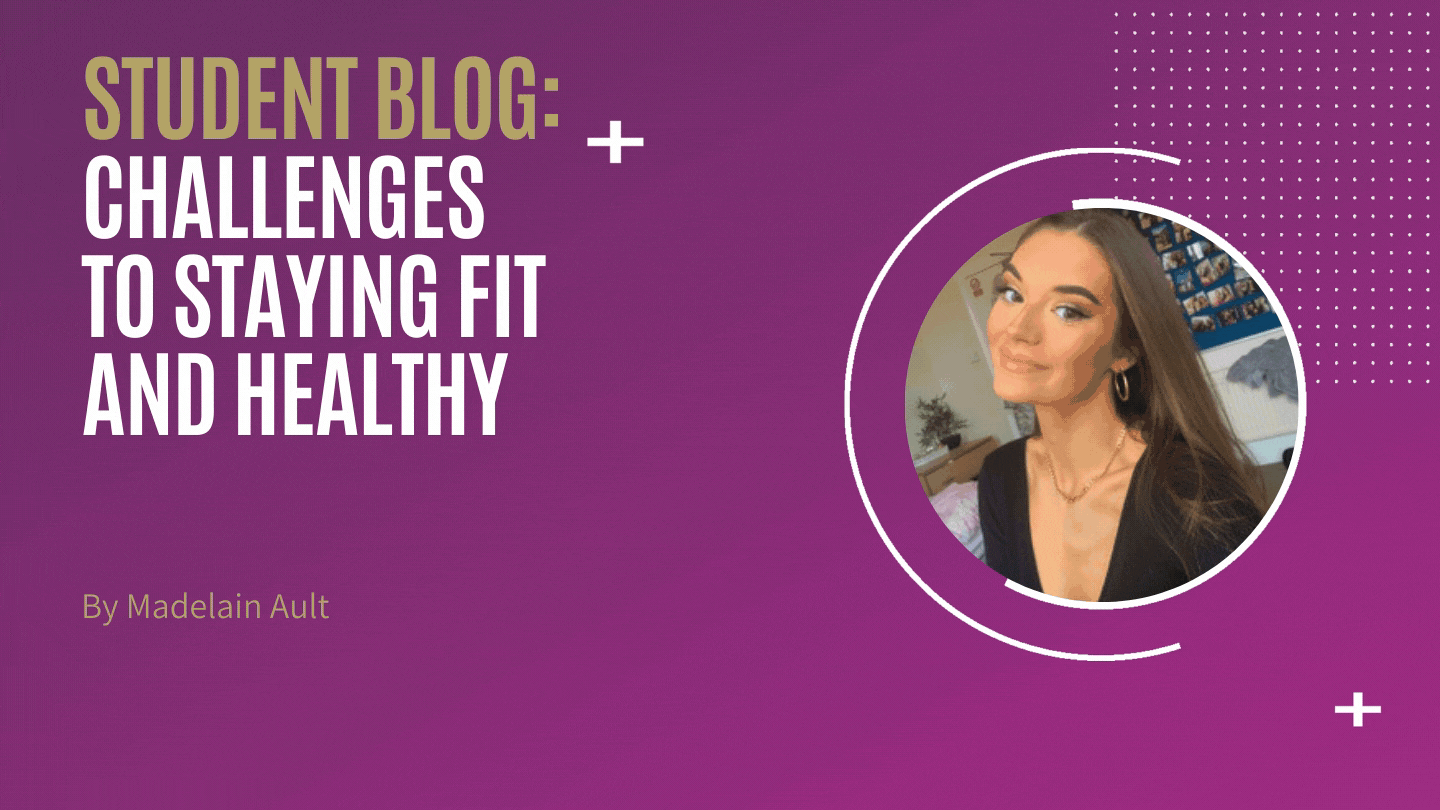 My names Maddy and I am currently in my second year at University of Brighton studying Public Health. I learnt a lot in my first year at uni and something that I found was staying fit and healthy whilst at uni for me, felt nearly impossible. This blog is a chance to share my experiences of uni so far as well as tips and information I found useful to try and stay active and healthy. I am hoping this can help students who were/are in a similar situation to me because I found like most people, it's a pretty challenging time in your life.
Challenges to Staying Fit and Healthy Whilst at University
Before I started uni I was pretty fit and healthy. I went to the gym, ate a pretty balanced diet (most of the time) and throughout school took part in netball, dance and swimming clubs. After sixth form I took a gap year and worked full time, during which I stopped all the sports I used to take part in. This was due to the facts I didn't have as much time and because I wasn't at school meaning I couldn't take part in extra-curricular clubs.
Fast forward to my first year of uni. In my head I thought I would carry on with the gym and try and eat healthy. I was in catered accommodation meaning breakfast and dinner was cooked for you. Breakfast included a buffet cooked breakfast, pastries, cereal, fruit etc. Every morning I told myself I would get the yogurt and fruit and every morning I had the full English breakfast; I just couldn't resist.
Like a lot of first years, I was going out clubbing and drinking which meant spending a lot of days hungover, so no way was I going to the gym. Also, I assumed all sports clubs were for professionals and as I hadn't played any sport for ages, I felt like I wasn't good enough and I had completely lost my confidence.
In March we went into lockdown and I came home from uni feeling pretty rubbish about myself, feeling super unfit and my self-esteem was at an all-time low. I knew I had to do something, and I made the decision to use the time in lockdown too make a change. Like most people finding motivation when you're stuck in your bedroom every day is hard and don't get me wrong, some days I had to drag myself out of bed. I started off by just doing a 15-minute workout every day as soon as I woke up. I found this gave me a massive boost for the day and found it improved my mental health as well as making me more productive (I found workouts on YouTube, Instagram and surprisingly tick-tok. Some good ones I found were Joe Wicks, Shreddy by Grace Beverly and Krissy Cela on Instagram). Additionally, doing a workout in the morning was better for me as if I ever left it to the evening, I had less motivation and dreaded it all day. Another thing that helped was putting on a podcast and stretching for 20mins. I found it relieved stress and I could just switch off from everything. For me having a routine is super important, even in lockdown. Just waking up and doing a bit of exercise, making sure I went outside once a day and going to bed at a reasonable time gave me structure and helped me be more productive and not lose my mind.
I'm in year 2 now and nearly the fittest, healthiest and happiest I have ever been and still managing my uni work, a part-time job and having a good time with my friends. It is possible to be at uni, stay healthy and have a good social life but I know from experience its super hard. Little changes to your day can make a BIG difference on your mental and physical health.
So, that's a bit about me and my experiences and I hope that some of you can relate. My next blogs will include how I am staying fit in year 2 and during the second lockdown as well as, information on the services, facilities and programs University of Brighton offer in regard to sport, fitness and well-being.
Thanks for reading.
Madelain Ault
FOR PART 2 CLICK HERE.