News
Details Category: News
Published: Thursday, 28 April 2022 09:14 Written by Michelle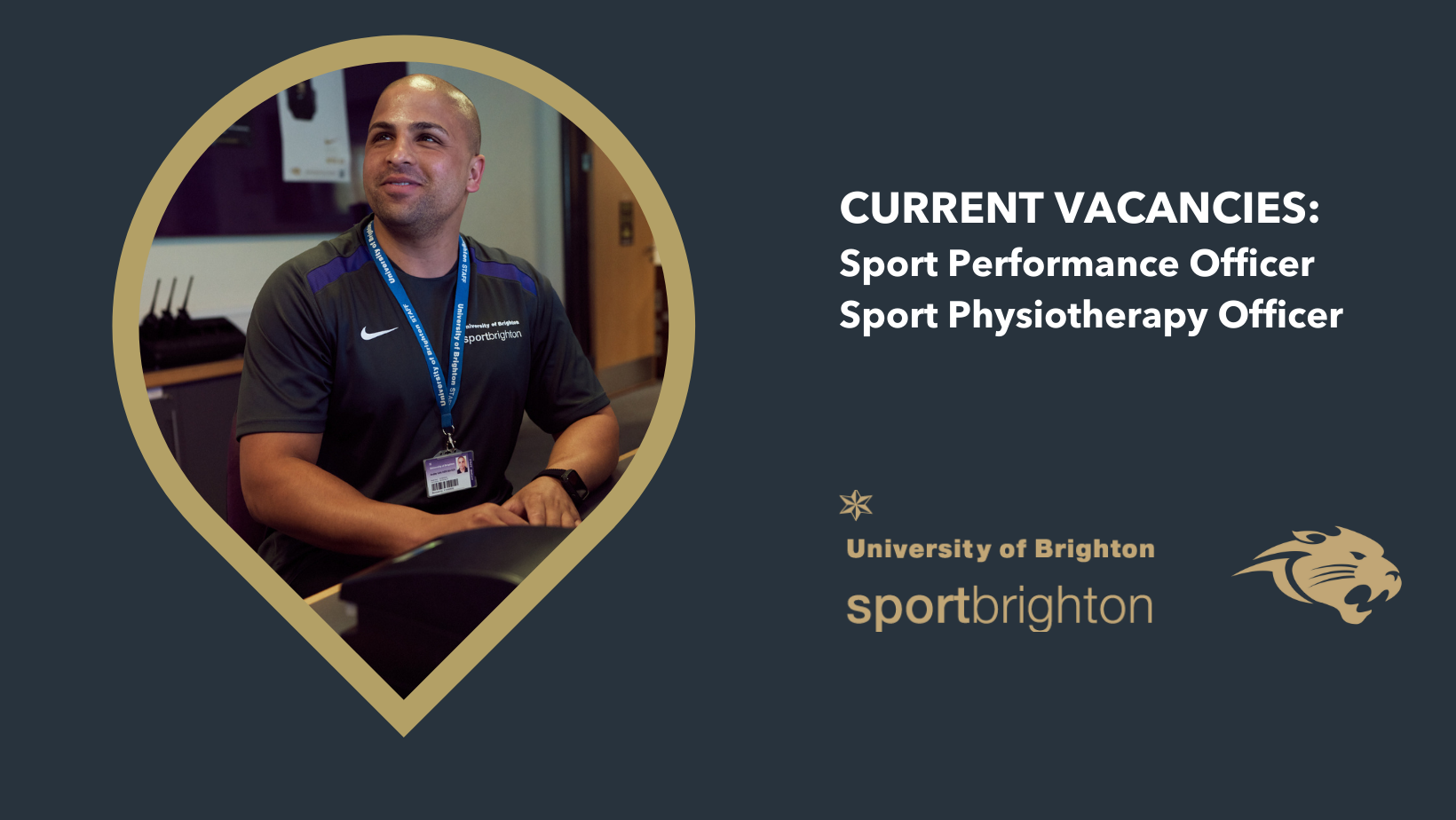 Performance sport services at the University are evolving and this is an excellent opportunity to join the team at Sport Brighton. There are currently two vacancies available. We are looking for a strength and conditioning professional alongside a physiotherapist to work within our performance sport set up. .
Apply using the Univeristy of Brighton application portal. Deadline for both posts is Monday 23rd May 2022.
Details can be found below:
Sport Performance Officer
| | |
| --- | --- |
| Location: | Brighton - Falmer |
| Salary: | £27,116 to £30,497 per annum |
| Closing Date: | Monday 23 May 2022 |
| Interviews: | Tuesday 31 May |
| Reference: | SO5020-22-177 |
Striving to enhance the student athlete experience through sport and physical activity, you will be working alongside a dedicated and talented team involved in facilities operation, sports development, and athlete support. You will be responsible for providing performance sport services to sports scholars, our high-level student sports clubs and elite community partners whilst actively engaging in the training, development and monitoring of the performance sport intern and placement/volunteer students.
For more information or to arrange an informal conversation contact Claire on This email address is being protected from spambots. You need JavaScript enabled to view it.
APPLY AND SEE FULL JOB DETAILS HERE
Sport Physiotherapy Officer
| | |
| --- | --- |
| Location: | Brighton - Falmer |
| Salary: | £27,116 to £30,497 pro rata |
| | 35 hours per week |
| Contract Length: | 12 months |
| Closing Date: | Monday 23 May 2022 |
| Interviews: | Wednesday 1 June |
| Reference: | SO5313-22-182 |
This role is lead in providing physiotherapy services to the University of Brighton performance athletes, performance partners and sports clubs, whilst providing an offer to the wider University community and maintaining a business focus to support the financial stability of the programme. The role will play a key part in providing student placement opportunities, boosting student employability and mentoring current University of Brighton Physiotherapy students on placement.
For more information or to arrange an informal conversation contact Claire on This email address is being protected from spambots. You need JavaScript enabled to view it.
APPLY AND SEE FULL JOB DETAILS HERE
Details Category: News
Published: Monday, 25 April 2022 10:01 Written by Michelle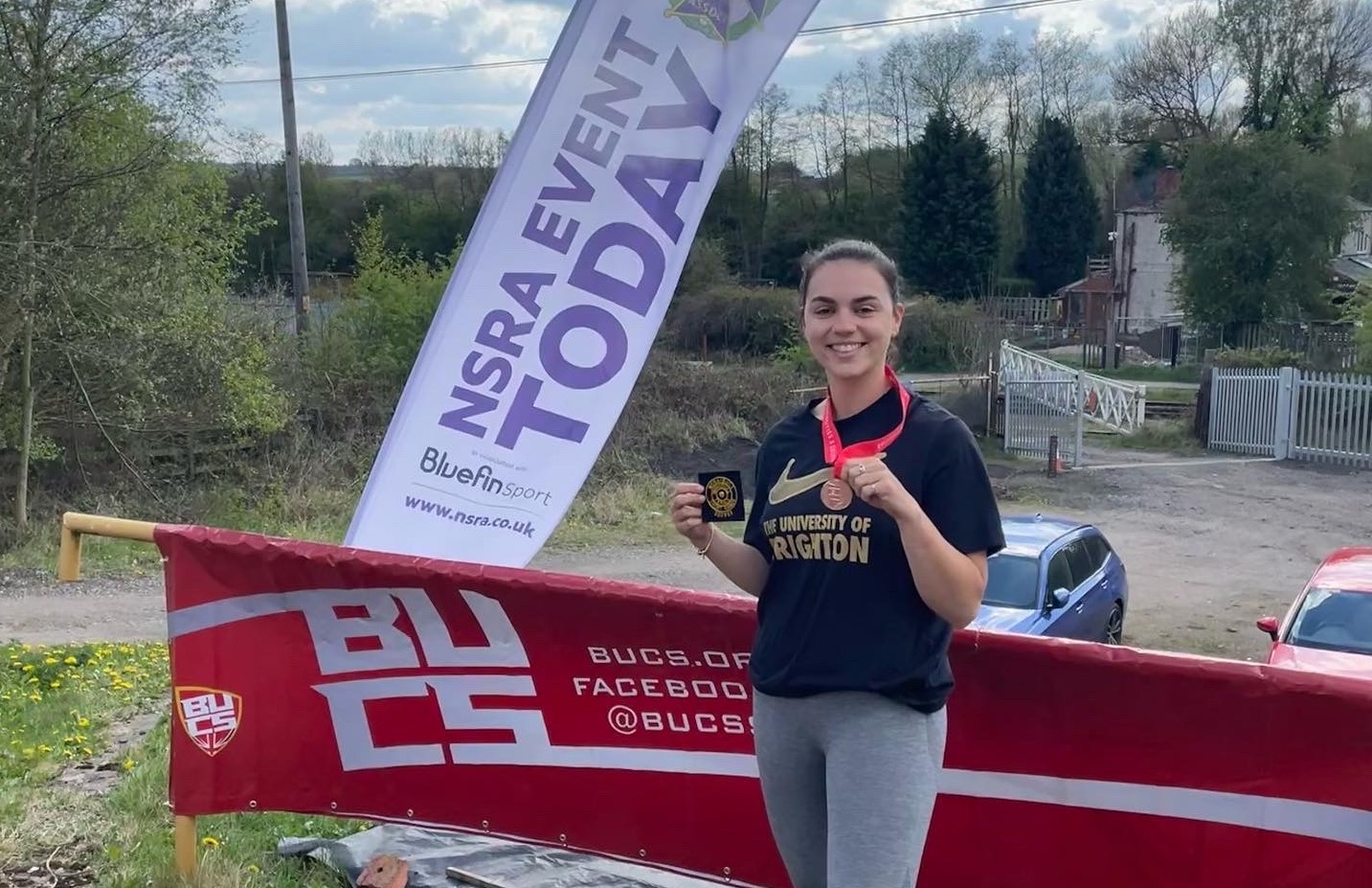 University of Brighton first year PhD student, Graihagh Guille, won a BUCS Bronze in the National Short Range Rifle Championship at the weekend. Graihagh specialises in two different rifle disciplines, air rifle, and .22 long rifle which is broken down into 3 position shooting and prone. Having initially tried shooting casually at 17,Graihagh is now a member of the GB rifle development squad and a University of Brighton sports scholar.
The BUCS Short Range Championships took place in Chesterfield last weekend. To qualify for the finals Graihagh took part in 5 rounds of postal qualification. Each round is shot in participants local range and consists of a 10 shot card which is scored out of 100, the top 12 qualify for the final. Graihagh finished qualification in 1st place for the woman's competition with a total score of 494/500. The in person final was made up of four rounds with each card being shot in 10 minutes. The first two rounds saw Graihagh in joint 2nd place with just one point between 2nd and 1st and the competition continued to be close for the final rounds. After all the rounds were complete Graihagh finished an impressive 3rd with a score of 390 out of 400.
Graihagh is now busy training in preparation for the English Championships this coming weekend where she hopes to improve on 2nd place from last year.

Details Category: News
Published: Friday, 22 April 2022 10:10 Written by Michelle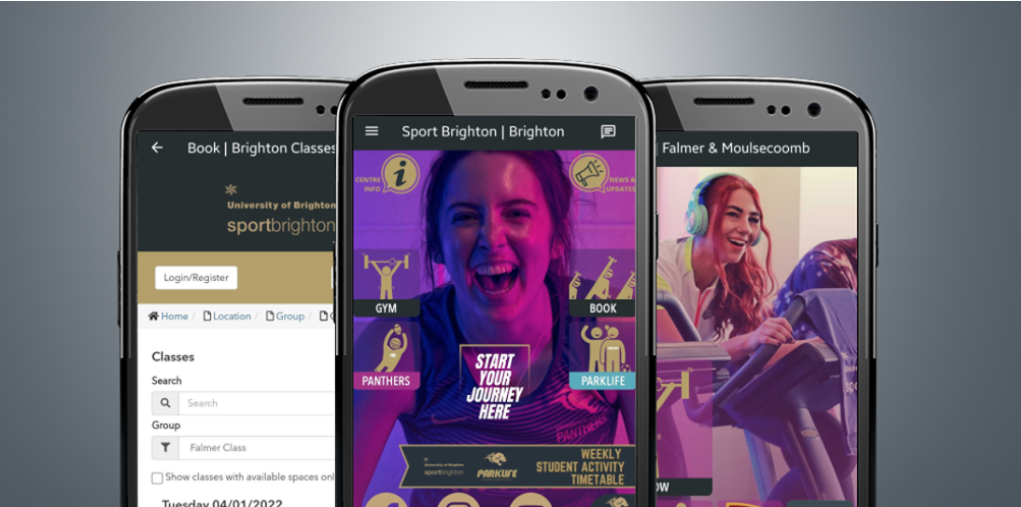 Sport Brighton have just launched a new App and have upgraded its online membership management system.
The App can be downloaded here. Use the App to navigate all Sport Brighton services including:
News and service updates
Class and swim bookings
Parklife bookings and timetables
Student Club information
Casual facility hire (courts and pitches) 48 hours for non-members and 7 day booking rights for members
Sport Brighton social media and Nike Store links
See below more informaton on accessing our online and App services.
GUIDE TO ACCESSING YOUR ONLINE ACCOUNT
ACCESS
You can access our online services here and via our App.
CURRENT STUDENTS AND STAFF
Current students and staff regardless of whether they are members with us can access our system by logging in with their University of Brighton user id (e.g. ab123) and your normal password. If you are a member make sure you switch your profile using the dropdown list next to your name to show your current membership rather than the 'registered' category. This will ensure you are getting your full member benefits.
CURRENT ASSOCIATE & COMMUNITY MEMBERS
If you are accessing the new system for the first time you will need to reset your password. To do this use the link here and go to login. Go straight to the 'Forgotten Password' link, no need to add any information on this initial screen. You will then be asked for your email address. Please use the email address that we have on our system for you. You will then need to follow the instructions on your screen and email to set up a new password.
Please note your password needs to fulfil the following requirements:
8 characters
an uppercase letter
a lowercase letter and a numeral
symbols are optional
Now you have your new password use your email address and password to login. Make sure you switch your profile using the dropdown list with your name to your current membership if you have one rather than the 'registered status' category. This will ensure you are getting your full member benefits.
NEW ASSOCIATE & COMMUNITY MEMBERS
Click the login/register button and select 'Register (New external users only)'. Follow the on screen account set up. This will then give you access to the system where you can access available services and membership purchase options.
ISSUES WITH ACTIVITIES BEING UNAVAILABLE OR THE WRONG PRICE
If a booking is unavailable or it is showing the wrong pricing for activities and bookings make sure you are using it under your membership category. To do this see the video below:
BOOKING CLASSES AND ADDING FAVOURITES
STILL HAVING ISSUES?
Pop in and speak to our staff or give us a call on 01273 643520.
Details Category: News
Published: Wednesday, 20 April 2022 10:28 Written by Michelle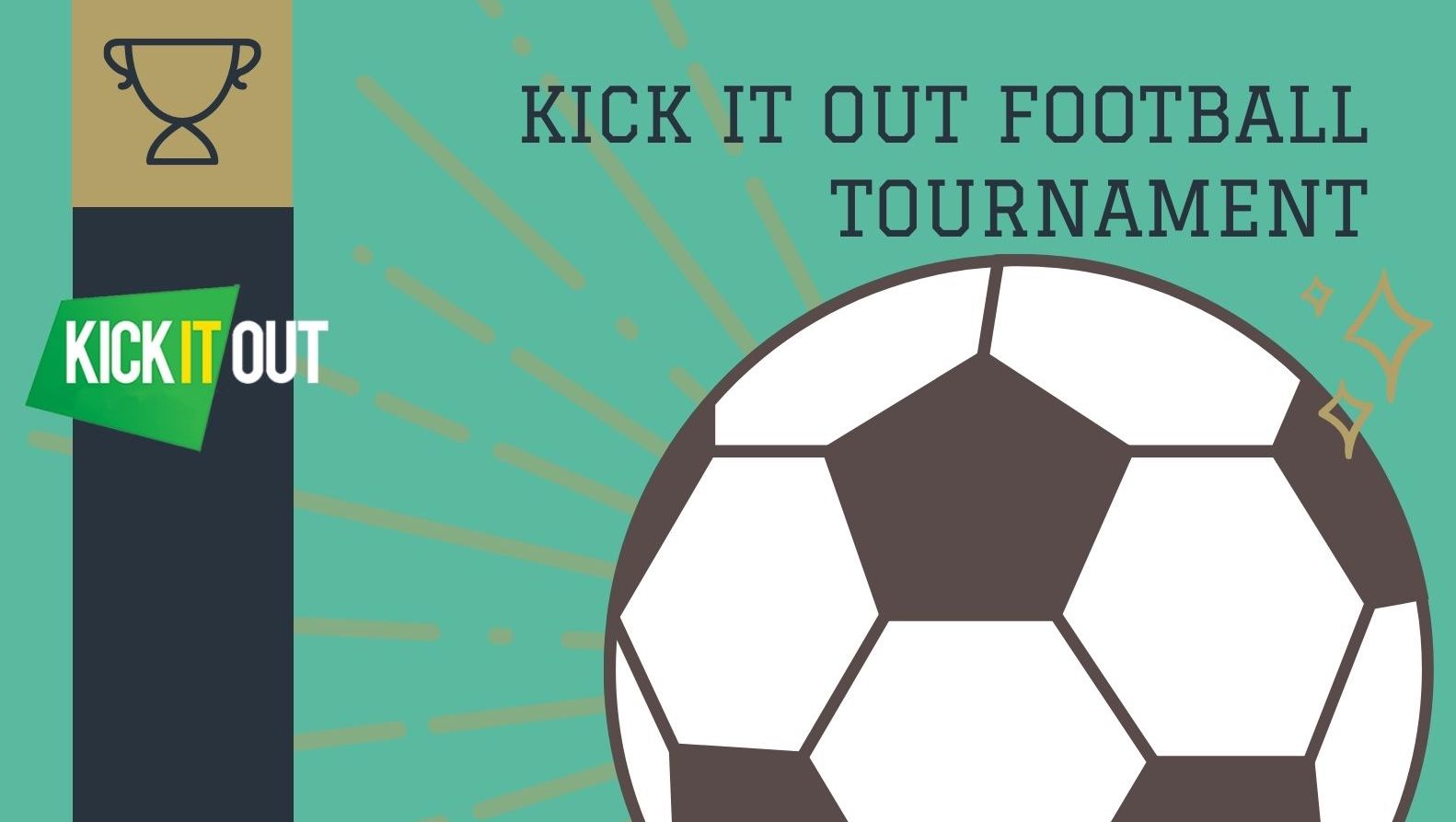 Join us for our Parklife Football For All football tournament. Taking place on Wednesday 1st June 2022 the tournament is open to all University of Brighton students and staff. The tournament is looking to raise awareness of 'Kick It Out' which aims to tackle discrimination of any kind.
You can sign up as an individual or as a team of 5. Teams can be mixed gender.
Details are below:
DATE: 1.6.2022
TIME: 14:30-17:00
CHARITY: Kick It Out
NAME: Football for All
TOURNAMENT TYPE: Social 5 a-side
LOCATION: University of Brighton Falmer 3G pitches. BN1 9PH. Nearest station Falmer or accessible via Brighton and Hove Bus routes.
Registration and payment: £1 payment and register through our online store below: