News
Details Category: News
Published: Monday, 10 February 2020 09:15 Written by Michelle
Skaters Gonna Skate
Come and join us in Falmer Sports Centre on Saturday 21st March for an hour long roller disco session (5-6pm or 6.30-7.30pm). With the music pumping and tickets on sale from only £3, this is the perfect group activity for you and your mates.
No Skates? No Problem! Skates are included in your booking, so all you will need to do on the night is turn up with your student card and ready to skate your heart out (or ready to give it a go at least).
You can buy your ticket on the online store here.
Please note: Staff & students will need to show their University of Brighton ID on arrival and all attendees must be over the age of 18.Group tickets are for University of Brighton members only.
Details Category: News
Published: Thursday, 16 January 2020 13:43 Written by Michelle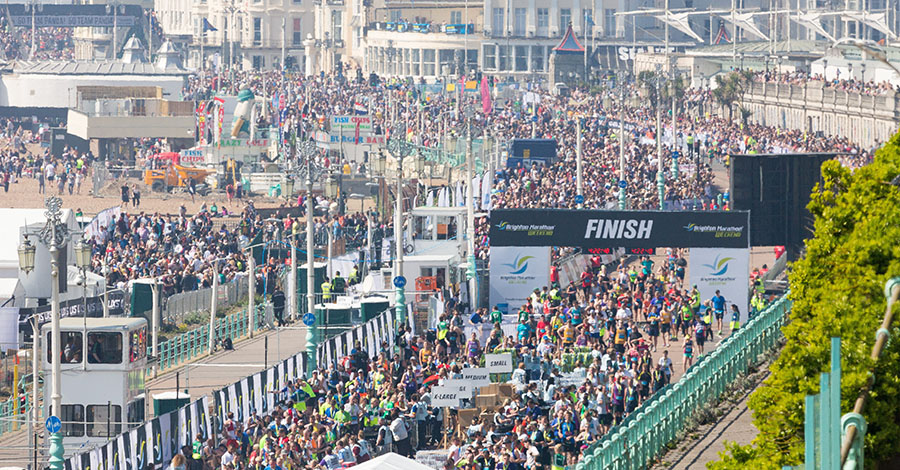 Is your aspiration to complete a marathon? Maybe you have run a number of marathons and you want to add Brighton to your roll of honour?
Details Category: News
Published: Thursday, 09 January 2020 21:48 Written by Michelle
University of Brighton student Joe Murray (pictured on the left) was honoured to receive his first international cap for Jamaica's U23's rugby team last weekend. Joe who studies Sport and Exercise Science was selected to play for Jamaica in the away fixture against Gibraltar U23. Jamaica defeated Gibraltar in a thriller, winning 17-15 at Europa Point on Saturday afternoon. Highlights from the official @Jamaica_Rugby Twitter page during the team's recent trip are below.
Jamaica's Team Manager Hughton Campbell said 'Joe is a really exciting young player with great handling, skills best performed under pressure.
We can expect to see Joe graduating to the senior 7's team in the not to distant future.'
Joe clearly likes to keep busy as he also represents the University of Brighton Panthers Rugby team competing in the BUCS Premier League. He also volunteers for the performance programme with Sport Brighton as well as the Jamaica team utilising his academic specialism in strength and conditioning.
We look forward to seeing what is next for Joe.
Jamaica Won 17-15 over @GibraltarRugby in an Extremely Tough Friendly International Encounter. Thanks to Gibraltar Rugby for hosting the 🇯🇲🐊... #jamaicarugby #RugbyJamaica #TeamJamaica #Jamaica #outofmanyonepeople @Babsy_grange @AndrewHolnessJM @SandalsResorts pic.twitter.com/60S5eBy7WI

— Jamaica Rugby Football Union (@Jamaica_Rugby) January 4, 2020
Details Category: News
Published: Tuesday, 26 November 2019 10:32 Written by Michelle
McKenzie Howell won the Young Volunteer of the Year award at the Sussex Sports Awards on Friday 22nd November. The annual event organised by Active Sussex celebrates all things sport in the county. This year's awards included an appearance from guest host Kriss Akabusi. McKenzie received her award from the University of Brighton's new Head of Sport Barry Squires (pictured above) who presented the Young Volunteer of the Year award category.