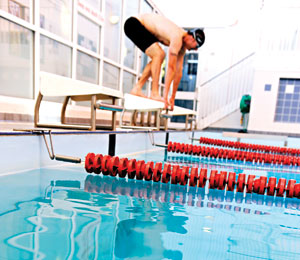 Enhance your CV and stand out from the crowd. Sport Brighton hosts a range of courses to add qualifications to your CV. Forthcoming courses include:
National Pool Lifeguard Qualification (2018, December)
The National Pool Lifeguard Qualification (NPLQ) complies with the industry guidance contained within the HSE publication 'Managing Health and Safety in Swimming Pools'. Generally, the NPLQ is a recruitment requirement for a number of jobs from Pool Lifeguard to Centre Manager. On successful completion of the course you will be fully qualified to work as a Pool Lifeguard up to a depth of 1.85m and using a PXB - Pool Extraction Board).
Trampoline Teachers Level 1 AND Level 2 Awards (2019, February)
This course will take place over the following days:
09th/10th/17th & 24th February 2019
The course is for Teacher or students training to be teacher and can be used to teach trampolining in after school activities.
LTA Key stage 3 and 4 Teacher (2019, May)
This is a Lawn Tennis Association qualification for teachers or students training to be teachers looking to teach Key Stage 3 and 4 children.
Course runs 10:00-13:00