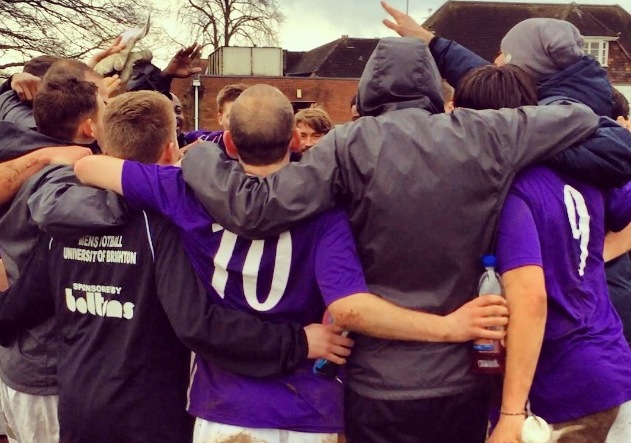 The biggest participation sport in the world and our nation's most popular game; there is a reason Sport Brighton provides a wide range of opportunities to take part in Football at the University of Brighton.
Just Play - £1
As part of the regular, weekly Parklife programme timetables; you can just turn-up and play Football for the fun of it at just £1/ session in the following times:
Falmer Sports Centre 3G, Brighton
Thursday, 4-6pm

Friday, 3-5pm
Hillbrow Sports Centre 3G, Eastbourne
Wednesday, 11am-12pm and 5-7pm
Social Football Leagues
If you are looking to play regularly in a fun and competitive environment then the Parklife Social Football Leagues for you. Get a team together with your friends, course or house-mates and enter our small or large-sided leagues.
All associated fees are included in a one-off team payment so you can get playing easily.
Brighton; 11 a-side

Brighton; 5 a-side

Eastbourne; 10 a-side

Eastbourne; 5 a-side
Female-only

; Just Play- £1
These turn up and play style sessions cater for all abilities to come together and enjoy a kick-around. With input from the Sports Federation teams there is also the chance to build your skills and play some more competitive games, all for just £1.
Falmer Sports Centre 3G, Brighton
Hillbrow Sports Centre 3G, Eastbourne
Sports Federation
Both Football and Futsal clubs for men and women seek experienced players looking to represent the University in regional and national competition. Receive access to regular coached training sessions and be a part of the wider Sport Brighton Panthers team.
Trials take place at the beginning of the year with limited teams available; more information on the available clubs can be found here.
Don't forget, if there isn't enough space to join the clubs then you can till compete in the Parklife Social Leagues and play recreationally at the Just Play sessions.
Referee programme
Whilst playing Football is great, Sport Brighton also gives you the chance to officiate fixtures in the Parklife leagues. Opportunities are available for those already FA qualified or for those seeking to gain their badge.
Did we mention our student referees are also paid?
Volunteer Opportunities
The Parklife programme relies on student activators across its programme to help provide its activities. If you want to get involved then have a look at the volunteer opportunities available to you.
We have also partnered with the Sussex Schools FA to provide Football-specific volunteer roles in the community; a great chance to build and apply your skills in a variety of roles, whilst making new contacts, developing your CV experience and having fun.