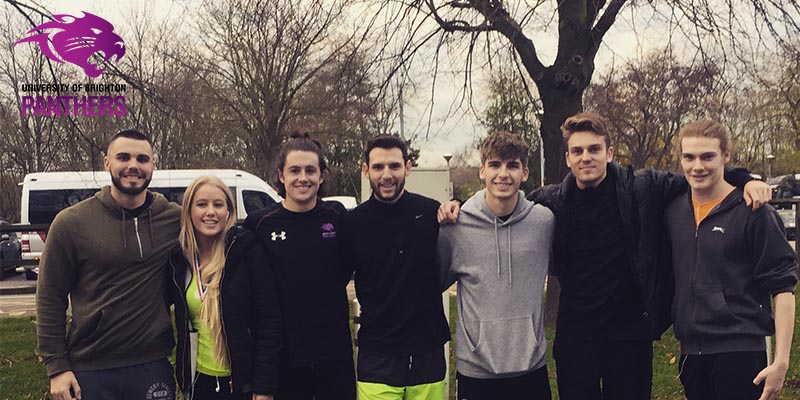 2 medals, 3 debutants and all-round top performances were achieved by representatives of Sport Brighton at the Southern England Student Sports Association Higher Education Athletics meet held at the Lee Valley Athletics Centre on 6th December.
The University athletics team recently took part in the SESSA higher education athletics meet on the 6th December at Lee Valley.
The Men's co-captain Declan Neary had the performance of the day in the men's 3000 meter final. Declan ran gun to tap in poll position finishing with an impressive time of 8:43.73, which was an 11 second personal best for Declan. Declan has made massive improvements throughout the year. This performance being his third personal best in three separate events (3000, 1500, 800 meters). Following on from this performance, Dec has decided to contest the 3000 meters at BUCS indoors!
It was a good day for Joey Watson, still returning to fitness following hand surgery; winning the shot put by a huge margin with 15.05m. The throw from Joey is his best standing throw of the year, which bodes well for the BUCS championships, aiming for Gold.
There was further success in the sprints, Men's co-captain Jack Avery cruised the heats to finish 6th in the final (52.88s). Jack who is a 400 meter hurdler specialist is optimist about producing a better performance when BUCS comes around.
There were three debutants for the Brighton Panthers; James Pearce, Philip Allen and Millie Hemsley. James Pearce showed good reaction in the 60 meters to finish 2nd in a time of 7.56s, agonizingly missing out on a semi-final place by 0.2s. A double performance from Philip Allen who ran the 400 meters finishing third in his heat (55.34) and finished 5th in the 60m with 7.80s. Millie Hemlsey, our sole female athlete for the day, achieved 4th amongst a tough group of athletes with a high of 2.8m.
Overall the day was a success for the university athletics team, winning two medals and some solid performances. Men's captains Jack and Dec reflected:
"We feel it was a great opportunity, not just for ourselves but everyone wanting to develop and be involved in the athletics team this year. We feel that this meet was a good stepping stone and allowed us to prepare for BUCS in the New Year. We had an extremely successful year last year at BUCS and we want to continue that throughout the coming year.
For us, today wasn't just about performances. It was about coming together as a team and getting to know each other. There was a good balance of first years and seniors but also a mixture of scholarship athletes and non-scholarship athletes both producing good performances".